Gray Dawes Travel Traveller Toolkit
An innovative platform built in response to the Covid-19 pandemic
The brief
In March 2020, when the Covid-19 pandemic brought the UK (along with the rest of the world) to a halt, Gray Dawes Travel recognised how imperative it was for them to be the beacon of information and guidance for their clients.
As official advice continually changed, and was often complex in its nature, Gray Dawes needed to be able to keep their clients and travellers in the know, with the very latest travel-related updates in the easiest possible format to digest. Square1 stepped up…
The Solution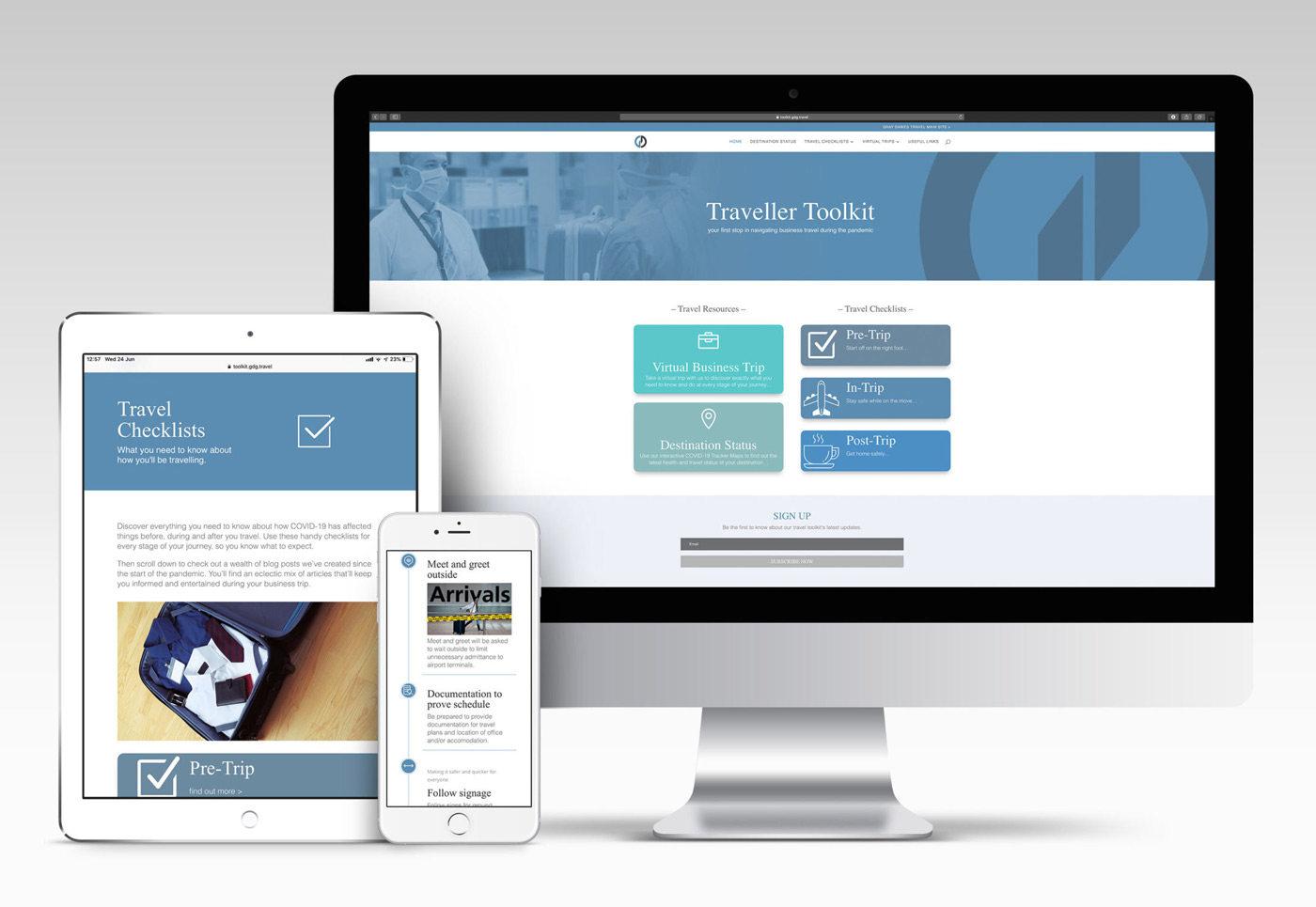 As part of the Gray Dawes Group, Square1 was on hand and developed the Gray Dawes Traveller Toolkit. A comprehensive, standalone platform designed to be the one-stop clients and prospects would need for anything travel-related during the Covid-19 crisis. This new online resource quickly became the essential first stop in navigating business travel during the pandemic.
Working closely with the Gray Dawes team, and with experts from across the business travel industry, we developed the Traveller Toolkit with clear, easy to understand navigation that provided:
Virtual Business Trip walkthroughs for air, hotel and rail
Travel Checklists for pre-trip, in-trip and post-trip experiences
Destination Status Trackers for real-time interactive maps and dashboards, charting both travel restrictions and stringency levels COVID-19 is imposing on every country in the world
Travel Checker interactive traveller questionnaires.
It was imperative that the toolkit delivered the latest information in a way that engaged and informed the audience, so that salient information was successfully understood. We created interactive dashboards and flow-chart style, step-by-step guides that used a range of media types to turn complex information into easy to understand visual stories.
Additionally, we developed a comprehensive communications strategy that would complement the Toolkit. The "Working from Home" and subsequent "Back to Business… Travel" blogs provided industry news, tips and tricks for home-working, opinion pieces and insight that ran alongside, and in conjunction with, the Traveller Toolkit. This strategy and tactical implementation keep the Toolkit front of mind and ensured newsletter recipients were kept informed and up to date.
To date, we have published over 130 original articles in the 14 months since the start of national restrictions and continue to do so as the situation develops.
The results
The impact that the Traveller Toolkit and "Back to Business… Travel" blogs have had and the feedback that Gray Dawes has had directly from their reader base has been incredibly positive. Many Gray Dawes clients cite these assets as their key source of information for anything travel related throughout the pandemic. Many continue to use the Toolkit to check not just their business travel, but for their own personal travel arrangements too. The Toolkit has received over 30,000 unique visits and each of these lasting an average of 4.5 minutes.
"We've been delighted with the response we've had to our Traveller Toolkit and marketing communications across this trying period. As a Travel Management Company our job is to make our clients' lives easier when it comes to anything to do with their business travel. We can all feel proud that we've done the very best we possibly can for our clients during the pandemic. The Toolkit and the consistency of our communication is a large part of that."
Suzanne Horner, CEO, Gray Dawes Travel
The mix of the latest industry-related updates alongside business news, personal wellbeing and home-working articles was particularly well received during this unprecedented period of disruption, where many were newly working from home or furloughed. The blog has seen a phenomenal 440,000 visits over the pandemic period.
In addition to supporting existing clients, and despite the Covid-19 pandemic, Gray Dawes was also able to achieve one of its best years for signed new client business, due in part to the comprehensive content and communications strategy.
Far from being a one-hit wonder, the Traveller Toolkit will continue to be used by Gray Dawes to provide the very latest information, guidance and how-to's to help keep clients in the know about any travel restrictions or updates in the future.